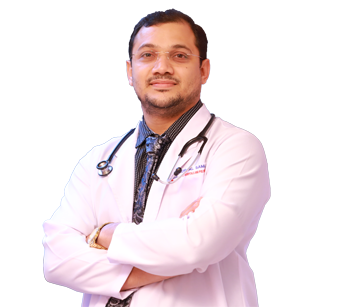 Dr DAMODAR MOORJE PRABHU
Specialist Internist
Internal Medicine
MBBS, MD, Dip. Diabetology, FAGE
Nizwa (Oman)
About Dr DAMODAR MOORJE PRABHU
Dr Damodar M Prabhu is a doctor par excellence. His training has taken him around the world and he brings his rich experiences to Badr Al Samaa hospital in Nizwa, Oman. His areas of interest and expertise are multiple and diverse as he is interested in many conditions related to internal medicine. His public lectures on health and his single-minded dedication towards serving society have earned him honour and accolades by local bodies in Oman too. He keeps his knowledge up-to-date by regularly attending conferences and workshops across the globe.
Excellence & Experience
Level of Experience
Junior consultant in Sanjeevani Hospital, Kanhangad, Kerala
Senior Medical Officer at Badr Al Samaa, Oman
Awards & Academics
Academics Details
MBBS – KIMS, Hubli - 2007
MD - Kasturba Medical College, Mangalore - 2010
Diploma Diabetes
FAGE
Out Patient Timings
The outpatient timings at Badr Al Samaa Hospitals have been planned in such a way that your choice of doctor is available whenever you are free.
Sunday
9:00 AM - 1:00 PM
Nizwa - Oman
5:00 PM - 9:00 PM
Nizwa - Oman
Monday
9:00 AM - 1:00 PM
Nizwa - Oman
5:00 PM - 9:00 PM
Nizwa - Oman
Tuesday
9:00 AM - 1:00 PM
Nizwa - Oman
5:00 PM - 9:00 PM
Nizwa - Oman
Wednesday
9:00 AM - 1:00 PM
Nizwa - Oman
5:00 PM - 9:00 PM
Nizwa - Oman
Thursday
9:00 AM - 1:00 PM
Nizwa - Oman
5:00 PM - 9:00 PM
Nizwa - Oman
Friday
Saturday
9:00 AM - 1:00 PM
Nizwa - Oman
5:00 PM - 9:00 PM
Nizwa - Oman