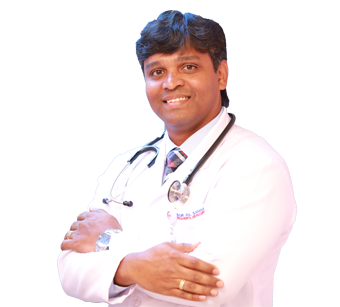 DR VENKATESH KUMAR .B
Specialist Cardiology
Cardiology
MD (Cardiology), Dip Cardio, FIC, C.Diab, ESC- HFA
18 years of experience
Nizwa (Oman)
About DR VENKATESH KUMAR .B
Dr Venkatesh Kumar is a Cardiologist with long years of experience in diagnosing and managing various cardiac diseases and cardiac emergencies. These include Heart attack, Heart failure, Arrhythmias, Heart blocks, Diagnosis of congenital and pediatric heart diseases, etc. He also has expertise in the management of CCU and has been the head of the Critical Code Blue team in various hospitals, having revived many patients with cardiac arrest. He has assisted in more than 3000 cardiac procedures like Angiogram/complex angioplasty, PPI, ICD, and EP-studies. Dr Venkatesh attends and has chaired many conferences and workshops to keep himself updated.
Excellence & Experience
Area of excellence
Management of myocardial infarction (ACS- STEMI/NSTEMI)
Treating Heart Failure and Arrhythmias
Resuscitation of Cardiac Arrest
CCU management
Diagnosing Congenital Heart Disease
Preventive Cardiology
Diabetes management
Level of Experience
KIMS Tertiary Care Hospital - Trivandrum, Kerala - 2017
Sacred Heart Mission Hospital, Irinjalakuda, Kerala - 2013-2017
Valluvanad Multispecialty Hospital, Ottapalam, Kerala - 2012-2013
G.Kuppuswamy Naidu Memorial Multi-Specialty Hospital, Coimbatore - 2010-2012
Coimbatore Diabetes Foundation – CDF-Coimbatore - 2010
Royal Multispecialty Hospital, Kunnamkulam, Kerala - 2007-2010
Ansar Hospital - Perumpilavu, Thrissur, Kerala - 2005-2007
Awards & Academics
Academics Details
MBBS – Rajah Muthiah Medical College, Annamalai Nagar - 2005
C. Diab – Coimbatore Diabetes Foundation (CDF), Coimbatore - 2010
PGDCC – G. Kuppuswamy Naidu Memorial Multi-Specialty Hospital (GKNMH), Coimbatore - 2012
MD - Cardiology - Uzhhorod National University - Ukraine -2021
FIC- fellowship in Cardiology -Medigrad ( Singapore ) -CPD standard -UK Accreditation- 2022
ESC HFA - Heart Failure Certification - European Society of Cardiology (2023)
Out Patient Timings
The outpatient timings at Badr Al Samaa Hospitals have been planned in such a way that your choice of doctor is available whenever you are free.
Sunday
9:00 AM - 1:00 PM
Nizwa - Oman
5:00 PM - 9:00 PM
Nizwa - Oman
Monday
9:00 AM - 1:00 PM
Nizwa - Oman
5:00 PM - 9:00 PM
Nizwa - Oman
Tuesday
9:00 AM - 1:00 PM
Nizwa - Oman
5:00 PM - 9:00 PM
Nizwa - Oman
Wednesday
9:00 AM - 1:00 PM
Nizwa - Oman
5:00 PM - 9:00 PM
Nizwa - Oman
Thursday
9:00 AM - 1:00 PM
Nizwa - Oman
5:00 PM - 9:00 PM
Nizwa - Oman
Friday
Saturday
9:00 AM - 1:00 PM
Nizwa - Oman
5:00 PM - 9:00 PM
Nizwa - Oman