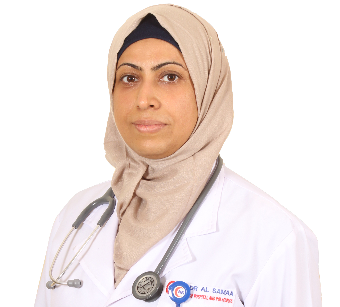 Dr GHUFRAN FAYEZ KAMIL
Medical Officer
General Practice
MBBS
17 years of experience
Nizwa (Oman)
About Dr GHUFRAN FAYEZ KAMIL
Dr Ghufran Fayez Kamil is a brilliant doctor who joined the service of Badr Al Samaa Group of Hospitals in 2018 as a General Practitioner. She brings with her rich medical experience garnered while working in various hospitals across Iraq. Her compassion, vast experience and dedication towards her patients make her an asset to the medical team here. She strongly believes in following-up with all her patients and counselling them where needed.
Excellence & Experience
Area of excellence
Interest in treating, follow-up, and counselling all patients regardless of age and gender
Level of Experience
Resident Doctor in various hospitals in Iraq
General Practitioner – PHCC, Iraq - 2006-2013
Hematological Lab General Practitioner - Iraq
Joined Badr Al Samaa Group of Hospitals in 2018
Awards & Academics
Academics Details
MBChB - Al Anbar University College of Medicine, Iraq - 2003
Hematological Lab Training - Nineveh Health directorate - 2013
Out Patient Timings
The outpatient timings at Badr Al Samaa Hospitals have been planned in such a way that your choice of doctor is available whenever you are free.
Sunday
7:00 AM - 3:00 PM
Nizwa - Oman
3:00 PM - 11:00 PM
Nizwa - Oman
Monday
7:00 AM - 3:00 PM
Nizwa - Oman
3:00 PM - 11:00 PM
Nizwa - Oman
Tuesday
7:00 AM - 3:00 PM
Nizwa - Oman
3:00 PM - 11:00 PM
Nizwa - Oman
Wednesday
7:00 AM - 3:00 PM
Nizwa - Oman
3:00 PM - 11:00 PM
Nizwa - Oman
Thursday
7:00 AM - 3:00 PM
Nizwa - Oman
3:00 PM - 11:00 PM
Nizwa - Oman
Friday
7:00 AM - 3:00 PM
Nizwa - Oman
3:00 PM - 11:00 PM
Nizwa - Oman
Saturday
7:00 AM - 3:00 PM
Nizwa - Oman
3:00 PM - 11:00 PM
Nizwa - Oman