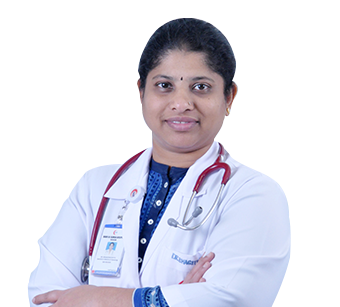 Dr BHAGEERATHY P S
Specialist
Obstetrics & Gynaecology
MBBS, DGO, MS
16 years of experience
Salalah (Oman)
About Dr BHAGEERATHY P S
Dr Bhageerathy is a Specialist with more than 12 years experience in Obstetrics and Gynecology. She has trained in some of the premier medical colleges in India. She has vast experience in managing high-risk pregnancies, assisted forceps and vacuum deliveries. She is also experienced in performing minor and major gynecological surgeries and has a special interest in gynecological cancers and precancerous lesions. To stay abreast with the latest trends in her field, she has participated in various national and international conferences and workshops. She also has 15 research publications in prestigious journals.
Excellence & Experience
Area of excellence
High-risk Obstetrics
Obstetric emergencies including ectopic pregnancy and early pregnancy bleeding
Obstetric Ultrasound
Painless labour
Multiple pregnancy
Obstetric and Perinatal Medicine
Gynecologic Oncology
Infertility, PCOD
Abnormal uterine bleeding
Gynecological Endoscopic Surgeries - Laparoscopy, Hysteroscopy, Colposcopy
Gynecological surgeries like Hysterectomy, Myomectomy, and Ovarian Cystectomy
Urogynecology
Menopause
Level of Experience
Dr Bhageerathy has worked in Christian Medical College, Vellore, a tertiary care set up with Intensive Care Units, High dependency units and Advanced NICU facilities.
She has worked in the Department of Gynecologic Oncology, Christian Medical College, Vellore, as an Assistant Professor of OG for 1 year and has experience in doing complex Gynecological cancer surgeries and laparoscopic surgeries.
Awards & Academics
Academics Details
MS (OG) - Christian Medical College, Vellore 2011 – 2013
DGO - Government Medical College, Calicut 2006 - 2008
MBBS - Government Medical College, Thiruvananthapuram - 2005
Out Patient Timings
The outpatient timings at Badr Al Samaa Hospitals have been planned in such a way that your choice of doctor is available whenever you are free.
Sunday
9:00 AM - 1:00 PM
Salalah - Oman
5:00 PM - 9:00 PM
Salalah - Oman
Monday
9:00 AM - 1:00 PM
Salalah - Oman
5:00 PM - 9:00 PM
Salalah - Oman
Tuesday
9:00 AM - 1:00 PM
Salalah - Oman
5:00 PM - 9:00 PM
Salalah - Oman
Wednesday
9:00 AM - 1:00 PM
Salalah - Oman
5:00 PM - 9:00 PM
Salalah - Oman
Thursday
9:00 AM - 1:00 PM
Salalah - Oman
5:00 PM - 9:00 PM
Salalah - Oman
Friday
Saturday
9:00 AM - 1:00 PM
Salalah - Oman
5:00 PM - 9:00 PM
Salalah - Oman