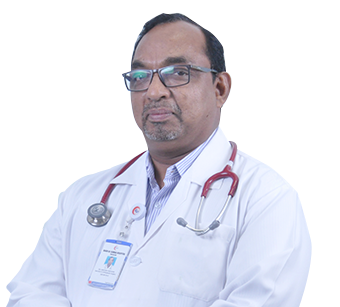 DR SANTHOSH MATHEW
Specialist
Orthopaedics
MBBS, D (ORTHO), MS (ORTHO), DNB, MNAMS, MCH (ORTHO)
32 years of experience
Salalah (Oman)
About DR SANTHOSH MATHEW
Dr Santosh Mathew is an outstanding senior Orthopedic Surgeon with 28 years of clinical experience and in-depth knowledge in his chosen field. He is also proficient in academics and various procedures like Trauma and Polytrauma surgeries, Arthroscopy & Sports injury corrections, Ilizarov limb lengthening & deformity correction, Pediatric orthopedic treatments, Joint Replacement Surgery (THR, TKR, TER & PSR), Hand surgery, etc. He joined Badr Al Samaa Hospital, Salalah, in 2012 and has performed over 500 major and minor surgeries. He has also authored several research papers and presented papers in conferences and workshops.
Excellence & Experience
Area of excellence
Trauma surgery
Arthroscopy and Sports Medicine
Hand surgery
Joint Replacement Surgery
Level of Experience
TMM Hospital, Tiruvalla, Kerala, India
Bhilai Hospital and Research Centre, Chattisgarh, India
Gyeong-Sang National University Hospital, South Korea
Fukuoka Children's Hospital, Japan
Shinkoean Handicapped Children's Hospital, Japan
Awards & Academics
List of awards
Post Graduate Gold Medal from Christian Medical College, Vellore, 1999
Academics Details
Post-graduation – Christian Medical College Vellore – 1999
Out Patient Timings
The outpatient timings at Badr Al Samaa Hospitals have been planned in such a way that your choice of doctor is available whenever you are free.
Sunday
10:00 AM - 2:00 PM
Salalah - Oman
5:00 PM - 10:00 PM
Salalah - Oman
Monday
10:00 AM - 2:00 PM
Salalah - Oman
5:00 PM - 10:00 PM
Salalah - Oman
Tuesday
10:00 AM - 2:00 PM
Salalah - Oman
5:00 PM - 10:00 PM
Salalah - Oman
Wednesday
10:00 AM - 2:00 PM
Salalah - Oman
5:00 PM - 10:00 PM
Salalah - Oman
Thursday
10:00 AM - 2:00 PM
Salalah - Oman
5:00 PM - 10:00 PM
Salalah - Oman
Friday
Saturday
10:00 AM - 2:00 PM
Salalah - Oman
5:00 PM - 10:00 PM
Salalah - Oman