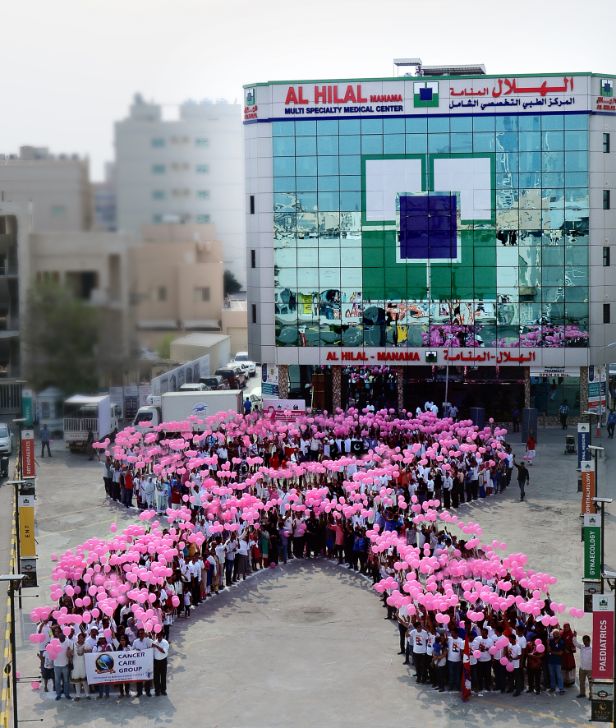 KINGDOM'S LARGEST HUMAN PINK RIBBON
Bahrain, 27th Oct 2018: More than 2100 people of different nationalities in the Kingdom of Bahrain gathered and scripted the Kingdom's largest Human Pink ribbon on 26th Oct 2018 at the parking ground of Al-Hilal Multispecialty medical center Manama, Adliya. The event was organized by Al-Hilal Healthcare Group, Bahrain Cancer care Group and Bahrain Public Transport Company. Embassy officials, corporate heads, Ministry officials, Social workers and Community leaders were present during the programme.
Kingdom's largest Human Pink Ribbon, is an initiative to support the awareness of Breast Cancer to mark the ongoing month-long awareness campaign. All the Participants were offered Free Check-Up which includes BP, Sugar, Cholesterol, Kidney and Liver Screening with one free consultation to review the report. Part of ongoing Campaign, Al-Hilal Health Care Group is offering free Breast Screening Check-up throughout the month. The check-up includes Specialist Gynecologist Consultation and Ultrasound Breast if required. Special Mammogram package is offered for Just BD 10/-. More than 1000 women have already availed these benefits.
"We are very pleased with the response that we have received to the Kingdom's largest Human Pink ribbon formation, it was a huge success. I wish that each of the participant creates a multiplier effect on this and communicates to maximum people regarding the awareness of Breast cancer and the way it can be curbed" said Dr. Sharath Chandran, Chief Executive officer of Al-Hilal Health care Group. "We urge women to come forward and screen for breast cancer at an early stage, and understanding Self Breast Examination is very critical" added Dr. P.V Cherian, Chairman of Bahrain Cancer Care group during the event. Dr VT Vinodan, Mr PA Mohammed and Mr Abdul Latheef, Directors of Al Hilal Healthcare Group extended their gratitude to all the people who participated in making this a historical event. The organizing team would like to extend the gratitude to all participants who made the event extremely successful