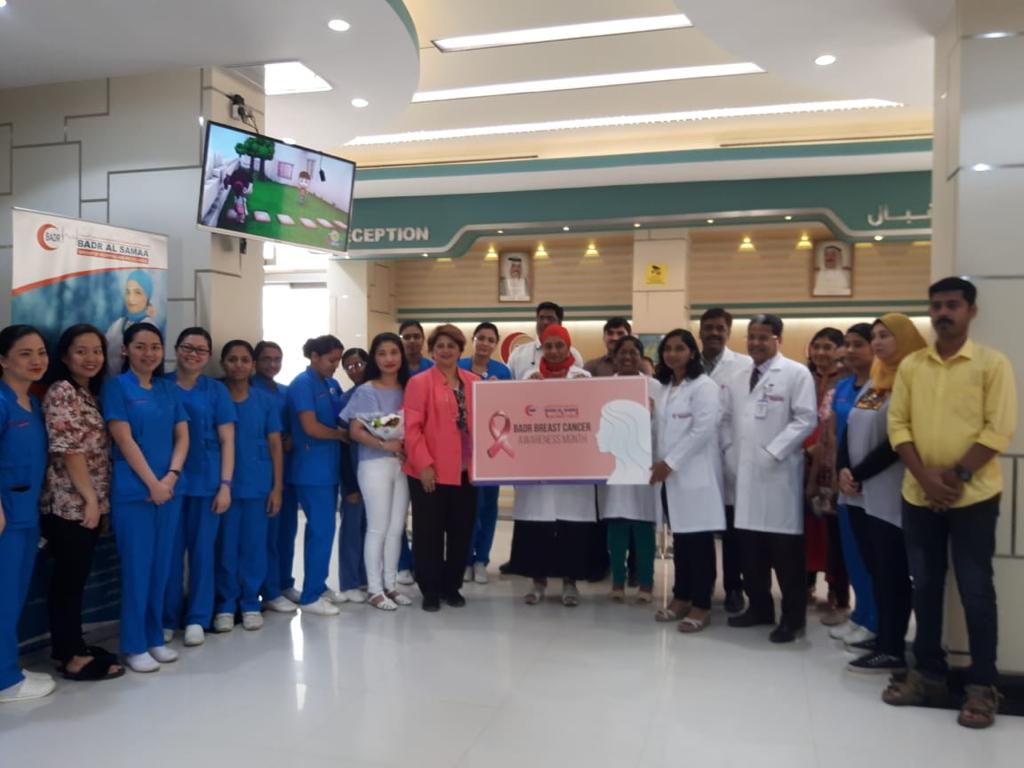 BADR AL SAMAA MEDICAL CENTRE, FARWANIYA, PROMOTES BREAST CANCER AWARENESS MONTH 2018.
Badr Al Samaa Medical Centre, during the October month of Breast Cancer Awareness,promotes Free Gynecology Consultation, Free Ultrasound Breast (If required), Free General Surgeon Consultation (if required) at their centre in Farwaniya. The screening test was availed by more than 150 women already and the women who were are at risk and requires treatment, has been referred to specialty hospitals for further treatment.
A Breast Cancer Awareness event was conducted at Badr Al Samaa Medical Centre, Farwaniya where Dr Shanta Mariam James, Principal of Indian Central School, Kuwait was the Chief Guest.She addressed the gathering with her experience in handling such kind of awareness campaigns she's holding in Kuwait for past 10 years. She also mentioned this great community service would be of great help for the women who doesn't know they are at risk and in turn such campaigns help them to change their lives. Her initiatives are much appreciated by various communities living in Kuwait and India.
Directors of Badr Al Samaa Medical Centre – Mr Abdul Latheef, Mr PA Mohammed and Dr Vinod VT sent their good wishes for the campaign. Dr Justin Stephen, General Surgeon at Badr Al Samaa Medical Centre, explained the risk factors of Breast Cancer, self-check mechanisms, treatments available and more to the people gathered, which was very informative and well appreciated. Mr Nitin Menon, Marketing Manager welcomed the gathering and Mr.Abdul Razzak, Branch Manager expressed his vote of thanks.