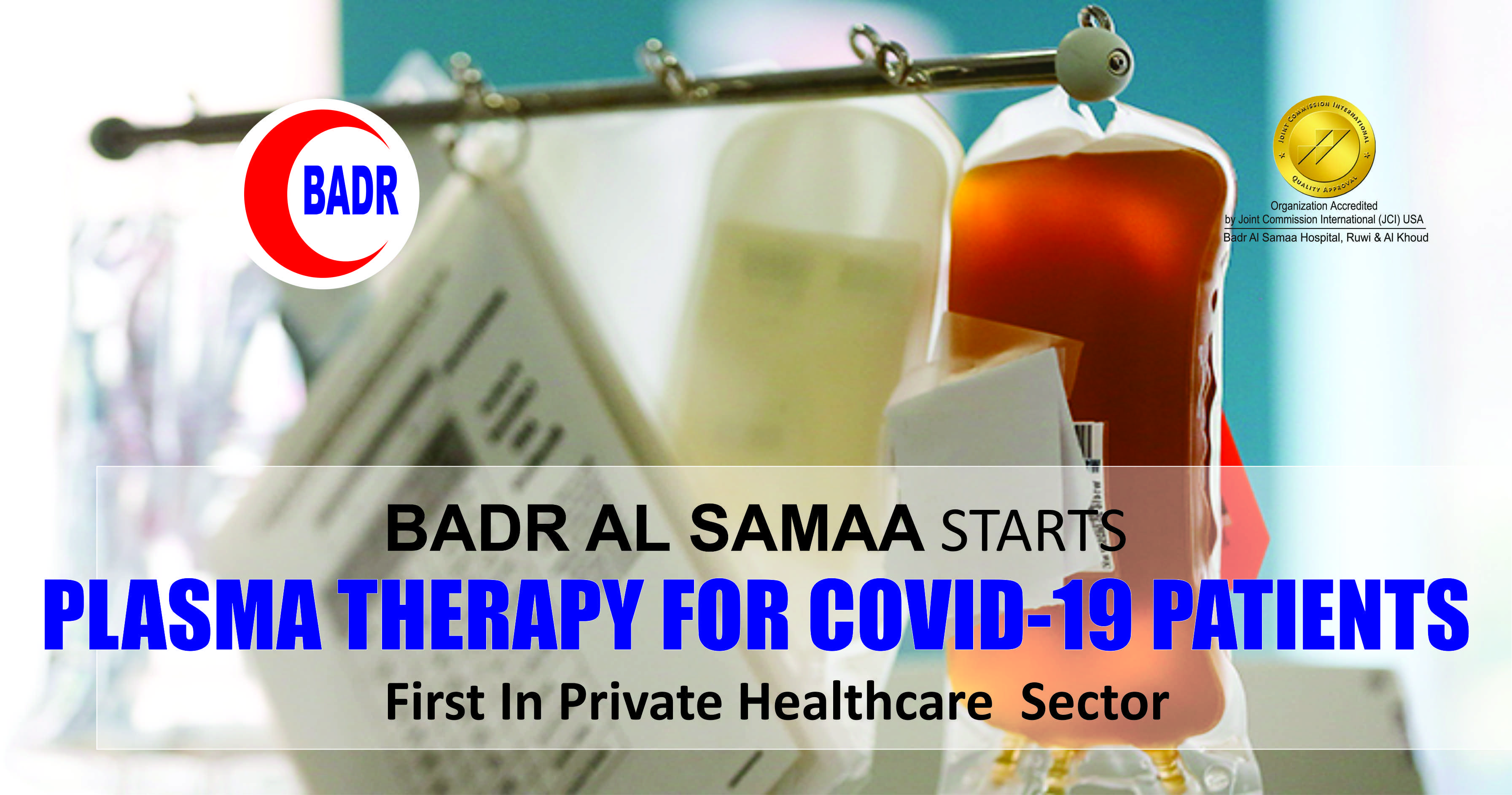 BADR AL SAMAA STARTS PLASMA THERAPY FOR COVID-19 PATIENTS, FIRST IN PRIVATE HEALTHCARE SECTOR
Badr Al Samaa Group of Hospitals with the support of Ministry of Health, Oman has started plasma therapy for COVID-19 patients.
Badr Al Samaa is organizing plasma donors with the support of many social organizations and many COVID-19 recovered patients from badr al samaa are voluntarily contacting the hospital for donations. Such socially responsible collaboration will go long way in reducing the mortality and increasing the recoveries of critically ill COVID-19 patients.
Dr. Basheer A, HOD – Internal Medicine & Infectious Diseases, Badr Al Samaa Hospital, Ruwi is heading this medical program of Plasma Therapy. He leads the team of experienced Internists of all centres of Badr Al Samaa Group. Dr. Basheer in a statement said, "Badr Al Samaa is ready to treat refered critically ill COVID-19 cases with plasma therapy from all centres of the group and other hospitals."
In a joint statement managing directors of Badr Al Samaa Group, Mr. Abdul Latheef and Dr. P A Mohammed said, "Badr Al Samaa adopts the most recent advances in healthcare for the betterment of the patients. Badr Al Samaa being the first in private healthcare to start plasma Plasma Therapy will go a long way in helping and treating critically ill COVID-19 patients. We are determined to walk along with Ministry of Health to shoulder this responsibility of fighting COVID-19 and adopt new techniques for better results".
In Convalescent plasma therapy, or passive antibody therapy, plasma from recovered COVID-19 patients is transfused in critically ill Coronavirus patients. Antibodies are developed in the blood of recovered COVID-19 patients, after injecting them in the body of critical ill patients these antibodies boost the infection fighting mechanism of the patients and increases their chances of recovery considerably. During treatment other treatment standards are followed with plasma therapy. Plasma therapy works as catalyst in speeding up the recovery.
Badr Al Samaa Group of Hospitals expresses gratitude to the donors who donate their blood for plasma therapy and appeals the successfully recovered COVID-19 patients to donate for the noble cause of saving lives.