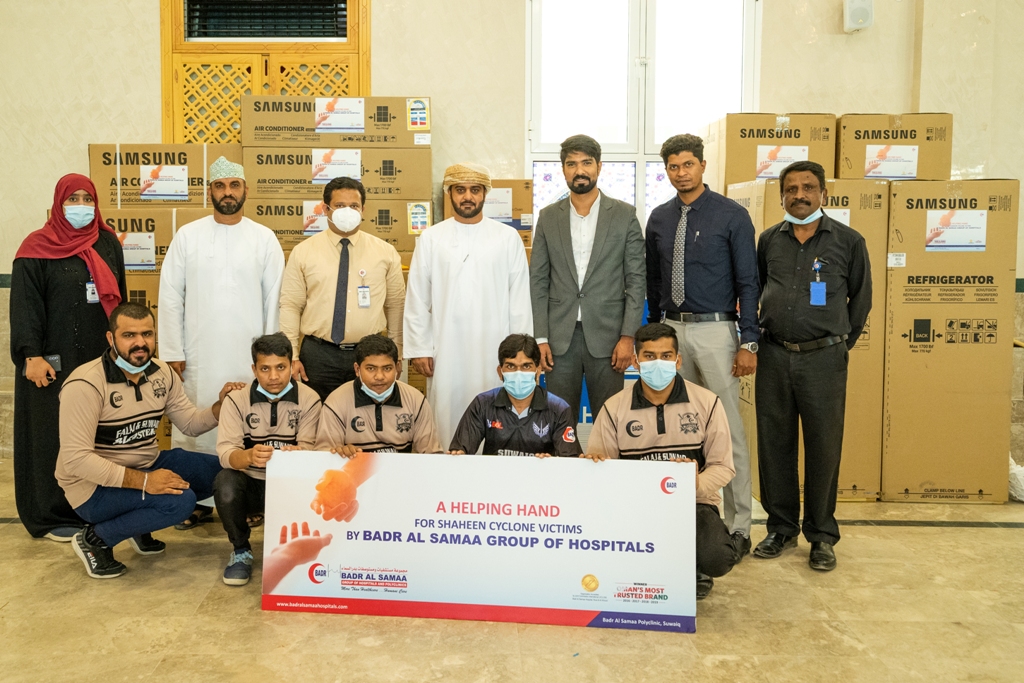 BADR AL SAMAA EXTENDS HELPING HAND TO THE VICTIMS OF CYCLONE SHAHEEN
Badr Al Samaa Group of Hospitals has always been on forefront in supporting the communities at the time of crises. Cyclone Shaheen left beyond a trail of destruction involving houses, roads, commercial establishments, livestock and above all the distress in families of the affected areas.
Government of the Sultanate, many social organizations, companies and individuals came forward yet again together as one team after COVID-19 to fight one more challenge.
Badr Al Samaa Group of Hospitals under its corporate social responsibility is committed in providing the best possible support and care to the deserving. Under its CSR program Badr Al Samaa distributed household electronic items like refrigerators, TVs, washing machines, ACs, microwave ovens in large quantities. The office of Wali of Suwaiq led by Deputy Wali of Suwaiq, Mohammed Bin Abdulsattar Al Kamali helped Badr Al Samaa to reach to the deserving with the aid.
Mohammed Bin Abdulsattar Al Kamali expressed his sincere gratitude and appreciations to Badr Al Samaa Group of Hospitals for its support in this noble cause. He said Badr Al Samaa has always been at the forefront, when the communities are in distress and need not just with the healthcare services but much beyond that.
Badr Al Samaa Group of Hospitals also organized free multi-speciality preventive health screening camp for hundreds of victims of cyclone Shaheen and screened them for many health conditions. Badr Al Samaa contributed in their capacity to ensure that the Cyclone Shaheen should leave no health complications in the community.
Speaking on this occasion, the managing directors of Badr Al Samaa Group of Hospitals Mr Abdul Latheef and Dr P A Mohammed in a joint statement said that being the largest healthcare provider and one of the oldest organizations in the sultanate, Badr Al Samaa's share of responsibilities towards the communities are much bigger and the healthcare group has always been in the front-line to tackle all the challenges. They said these initiatives for the cyclone Shaheen affected are small contributions of Badr Al Samaa for bigger cause. They said that they will keep on taking up more initiatives till the time, the problem is completely streamlined and the people will get back to their normal lives.